Forum-chan is a joke OC made by SenpaiX and everyone is allowed to use it in chat or forums.
-Warning: Extreme gore below
-
-
-
-
-
-
-
-
-
Forum-chan

Student Info

Career
Forum
Reputation
As much as the current roleplayers/discussing people on forum.
Club
Computer Club
Age
half a month (Since the restart of the fanon)
Persona
Dead
Crush
Thread Revivers and Nice Roleplayers.
Strength
-1
Emoticon
Everyone's Profile Pic
Additional Info
A ghost in the computer lab that is this wiki's Forum.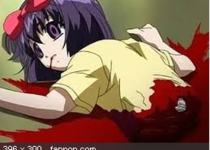 About
It is a ghost that may appear in the computer lab if all roleplays and boards in forums are silent. She appears in a shape of a 6 years old due to that half a month in Mega-Normal electronic years equals the 6 years.
Most of her killers are Silent Roleplayers, Thread Spammers and users with no opinion in the discussion board.
Her crush is every nice user who revives threads and roleplays.