| | |
| --- | --- |
| | This OC and template are owned by the wiki user SenpaiX. Ask for permission if you want to use the OC. The template is free to make one to yourself. |
Humiko Daisuke

Student Info

Career
Student
Reputation
80+
Club
Gaming - Martial Arts - Library Assistance
Age
17
Persona
Deredere/Semi-Brave
Crush
 ???
Strength
Unknown
Emoticon
Not yet made.
Additional Info
She is an extrovert and likes reading.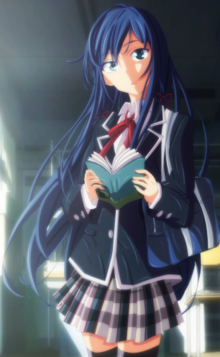 About
She is an extrovert and likes to interact with others, She also likes reading and will always carry books in her bag to read.
Appearance
She wears uniform 5# with a striped skirt with black pantyhose.
Her hair is dark blue and she has black eyes.
Personality
Daily Life
She will be socializing, texting or reading books most of the time.
Happy Personality
Will be watching the school from the rooftop.
Angry/Aggressive Personality
Will try to hide her angry side with a smile.
Sad/Disappointed Personality
Will sit alone under the cherry tree behind school and read books.
Reaction to murder
She will try to protect the victim with all power she got, and face the killer.
Trivia
Her favorite color is blue.
Gallery
Ad blocker interference detected!
Wikia is a free-to-use site that makes money from advertising. We have a modified experience for viewers using ad blockers

Wikia is not accessible if you've made further modifications. Remove the custom ad blocker rule(s) and the page will load as expected.